B-SELECT: The premium passenger tire care service center -All-in-one treatment for your car
B-select is Bridgestone premium Passenger Tires Care Service Center. This is a model that had been studied and developed by Bridgestone in order to provide the excellent quality experiences for customers to enjoy Bridgestone's tire and car care services.
A mission-driven idea into actions: "Serving Society with Superior Quality"
Bridgestone came up with the idea of B-select concept in 2005 when Bridgestone Australia conducted a large-scale customer behavior research project and realized that lots of customers wanted to experience a tire care service that can offer comforts and convenience.
Understanding the customers' need, Bridgestone has conducted research and build up the idea of a leading tire care service center. At Bridgestone's tire care shop, customers can experience a completely modern space with adherence to strict quality standards such as clean service areas, modern machinery and equipment; well-trained technical and sales staffs, especially the unique and comfortable waiting lounge area aiming to optimize the comfort of customers.
Car and tire care in Vietnam: An unsolved problem
The quality of service provided to customers is one of the criteria to which Bridgestone pay most attention from the very first day when entering Vietnamese market. At that time, tire shops are mostly traditional tire retailers with small spaces and limited business models, which did not bring the ultimate satisfaction to customers when using the service.
Along with the quality of service, each customer themselves is not equipped with the knowledge of the importance of tire care and maintenance. Even now, with the increasing demand and usage of cars, many customers still do not take tire care and maintenance seriously. Instead, they just go to the repair facility whenever their cars encounter troubles.
B-select - Enjoy global standards in Vietnam
Inheriting the stringent quality standards of Bridgestone worldwide, the first B-select in Vietnam in 2012 created a new wave in the market with a clean service area, modern equipment and professionally trained technical staff in the tire industry.

B-select is equipped with modern machinery and a team of professionally trained technicians
Proudly being one of the leading car care models in the world, B-select has been and being a trusted location in Vietnam. Not only does it offer genuine tire products and services ranging from tires to spare parts such as wheel alignment, wheel balancing, oil change, battery ... Bridgestone also optimizes the experience of waiting customers into relaxing comfort through interior design resembling a coffee shop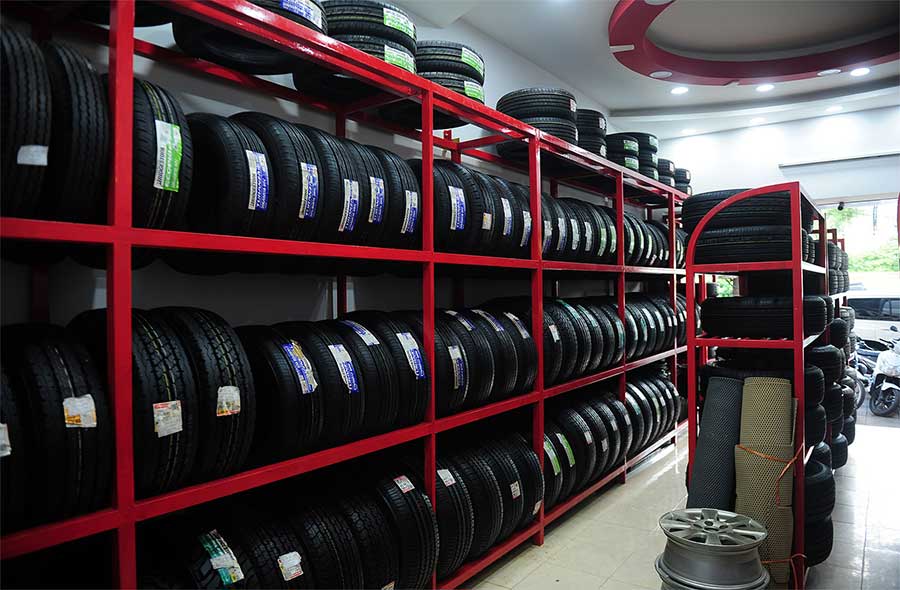 Not just an ideal place to buy tire...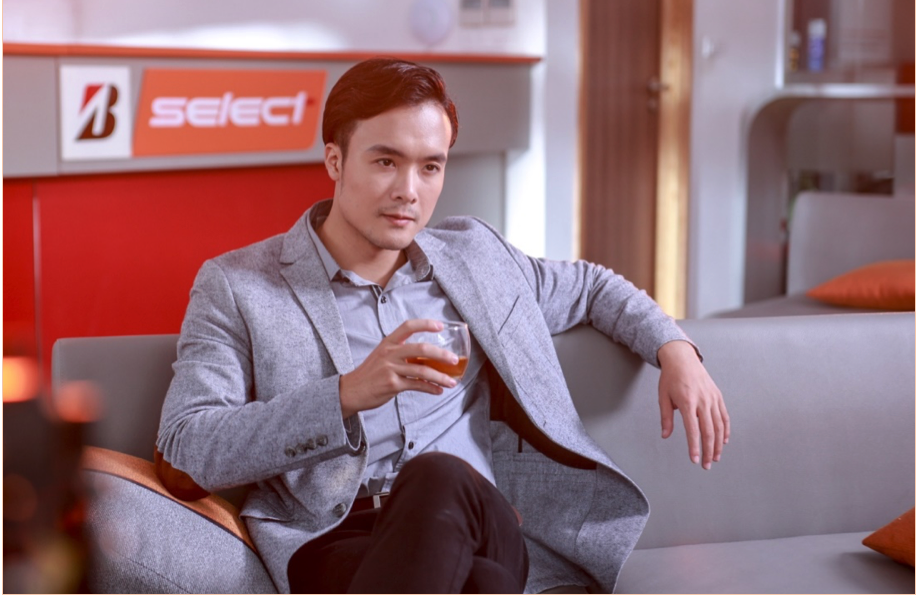 B-select is also a "relaxing space" for customers waiting in the lounge area
Information about tires, safety driving or tire promotions, tire replacement for luxury cars, and other products will be placed on display shelves or broadcasted on Bridgestone's TV channel while customers are waiting for their cars.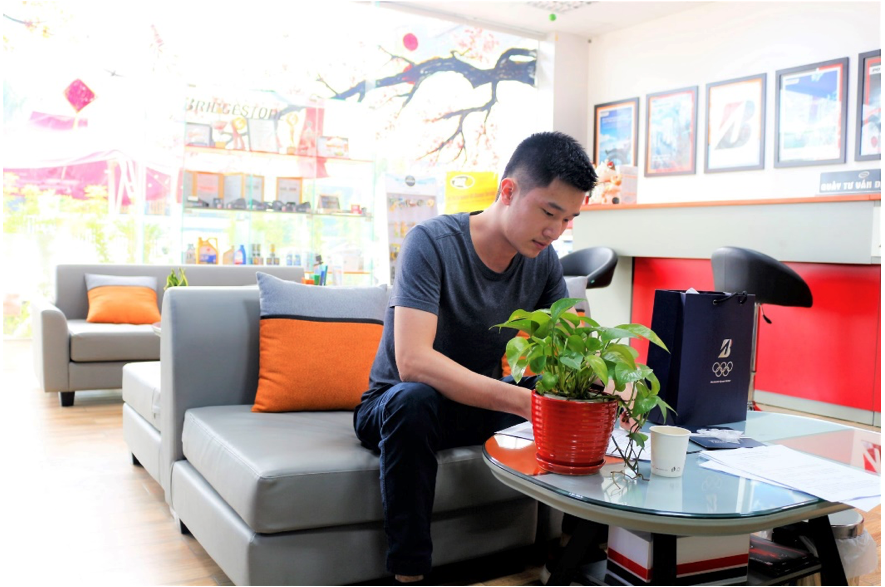 Customers could find out more knowledge about safety drive tips, product information and Bridgestone promotions while waiting
With the rapid development of the market, the Institute for Industry Policy and Strategy (IPSI) predicts that Vietnam could reach 1.85 million vehicles in 2035. To meet the increasing demand of the market, Bridgestone Vietnam is constantly improving and developing their systems. Up to now, B-select model has been available in almost all major cities and provinces in the country with guaranteed quality by Bridgestone worldwide standards. Customers can receive car care services at Bridgestone Premium Passenger Tire Care Service Center (B-select) listed below:
| | | | |
| --- | --- | --- | --- |
| Tên | Địa Chỉ | TP/Quận/HuyệnTỉnh | Tỉnh |
| B-select Dĩ An | 666/11 khu phố Tân Hòa, phường Đông Hòa, Dĩ An, Bình Dương | Dĩ An | Bình Dương |
| B-select Năm Quốc | 391 Đại lộ Bình Dương, tổ 1, KP12, P. Chánh Nghĩa, TP. Thủ Dầu Một, tỉnh Bình Dương | Thủ Dầu Một | Bình Dương |
| B-select ÔTÔ24 | 212 Nguyễn Văn Linh, P.Hưng Lợi, Q.Ninh Kiều, TP. Cần Thơ | Quận Ninh Kiều | Cần Thơ |
| B-select Bích Hiền | 252-254, Nguyễn Hữu Thọ Quận Hải Châu, Đà Nẵng | Quận Hải Châu | Đà Nẵng |
| B-select Tín Nghĩa | 203-205 Lê Thánh Tông , P.Tân Lợi, Tp.Buôn Ma Thuột , Daklak | Buôn Ma Thuột | Daklak |
| B-select Tân Năm Khương | 1103 Phạm Văn Thuận, Biên Hòa, Đồng Nai | Biên Hòa | Đồng Nai |
| B-select Thuần Lý | 64 Hùng Vương, Phường Diên Hồng, thành phố Pleiku, tỉnh Gia Lai | Pleiku | Gia Lai |
| B-select Dân Chủ | Số 140 Trần Phú, Hà Đông, Hà Nội | Hà Đông | Hà Nội |
| B-select Hoàng Hùng | 52 & 54 Yên Phụ, P. Nguyễn Trung Trực, Q. Ba Đình, Hà Nội | Quận Ba Đình | Hà Nội |
| B-select Thái Phương | B1-2 phố Việt Hưng, P. Việt Hưng, Q. Long Biên, TP. Hà Nội | Quận Long Biên | Hà Nội |
| B-select Long Biên | Lô 19B, Trung tâm dịch vụ ô tô Long Biên, số 3-5 Nguyễn Văn Linh, Quận Long Biên, Hà Nội | Quận Long Biên | Hà Nội |
| B-select Xuân Tùng | 640, Lạc Long Quân, Phú Thượng, Tây Hồ, Hà Nội | Quận Tây Hồ | Hà Nội |
| B-select Bích Thư | 83 đường Vành Đai 3 (cạnh chợ cá Yên Sở), P.Yên Sở, Quận Hoàng Mai, Hà Nội | Hoàng Mai | Hà Nội |
| B-select Hạnh Nguyên | Km 54+100 Quốc lộ 5A, khu 3, Phường Nhị Châu, Thành Phố Hải Dương, Tỉnh Hải Dương, Việt Nam | Hải Dương | Hải Dương |
| B-select Kiến An | Số 1028 Trần Nhân Tông, Cận Sơn 1, Phường Văn Đẩu, Quận Kiến An, Thành Phố Hải Phòng | Quận Kiến An | Hải Phòng |
| B-select Minh Ngọc | 267 Lê Thánh Tông, phường Máy Chai, quận Ngô Quyền, thành phố Hải Phòng | Quận Ngô Quyền | Hải Phòng |
| B-select Nha Trang | 231 Lê Hồng Phong, Phường Phước Hòa, TP Nha Trang, tỉnh Khánh Hòa | Nha Trang | Khánh Hòa |
| B-select Nhị Nguyên | 548 Quốc lộ 20, Liên Nghĩa, Đức Trọng, Lâm Đồng | Đức Trọng | Lâm Đồng |
| B-select Thành Nam | Đường 10, Vỵ Dương, Mỹ Xã, Thành phố Nam Định, Tỉnh Nam Định | Nam Định | Nam ĐỊnh |
| B-select Hải Anh | 36 Lê Thanh Nghị, Cẩm Bình, Thành phố Cẩm Phả, Quảng Ninh | Cẩm Phả | Quảng Ninh |
| B-select Thái Phùng | 212 Phạm Hùng, ấp Long Thới, xã Long Thành Trung, huyện Hòa Thành, Tây Ninh | Hòa Thành | Tây Ninh |
| B-select Yến Phong | 111/2, Khu phố 1, P. Thạnh Xuân, Quận 12, TP. HCM | Quận 12 | TP.HCM |
| B-select Thành Phát | 48 Lý Thái Tổ, Phường 1, Quận 3, TP.HCM | Quận 3 | TP.HCM |
| B-select Vạn Lợi | 342-344A Lý Thái Tổ, P1, Quận 3, TP.HCM | Quận 3 | TP.HCM |
| B-select Vạn Lợi | 1496 Huỳnh Tấn Phát, Quận 7, TP. HCM | Quận 7 | TP.HCM |
| B-select Thanh Long | 3/1 Đường số 17, P. Hiệp Bình Chánh, Quận Thủ Đức, TP.HCM | Quận Thủ Đức | TP.HCM |