Bridgestone Vietnam officially inaugurated the premium Bridgestone Truck Tire Center Phu Anh in Tien Giang province. This is the second Bridgestone Truck Tire Center in Vietnam
TIEN GIANG, 15 May, 2022 – Bridgestone Tire Sales Vietnam LLC (Bridgestone Vietnam) has officially inaugurated the premium Bridgestone Truck Tire Center Phu Anh (BTTC Phu Anh) in Long Tuong hamlet, Long An commune, Chau Thanh district, Tien Giang province last April.
This is the second BTTC launched by Bridgestone after 5 years of implementing the BTTC model in Vietnam. BTTC is Bridgestone's comprehensive and highest-standardized tire center in the truck and bus tire industry. It also represents Bridgestone's commitment to enhancing quality service for truck and bus owners as well as long-distance drivers in Vietnam.
After the first BTTC in Xuan Loc district, Dong Nai province, BTTC Phu Anh in Tien Giang province is expected to be the next quality stop, marking a milestone for the truck tire service of Bridgestone in Vietnam.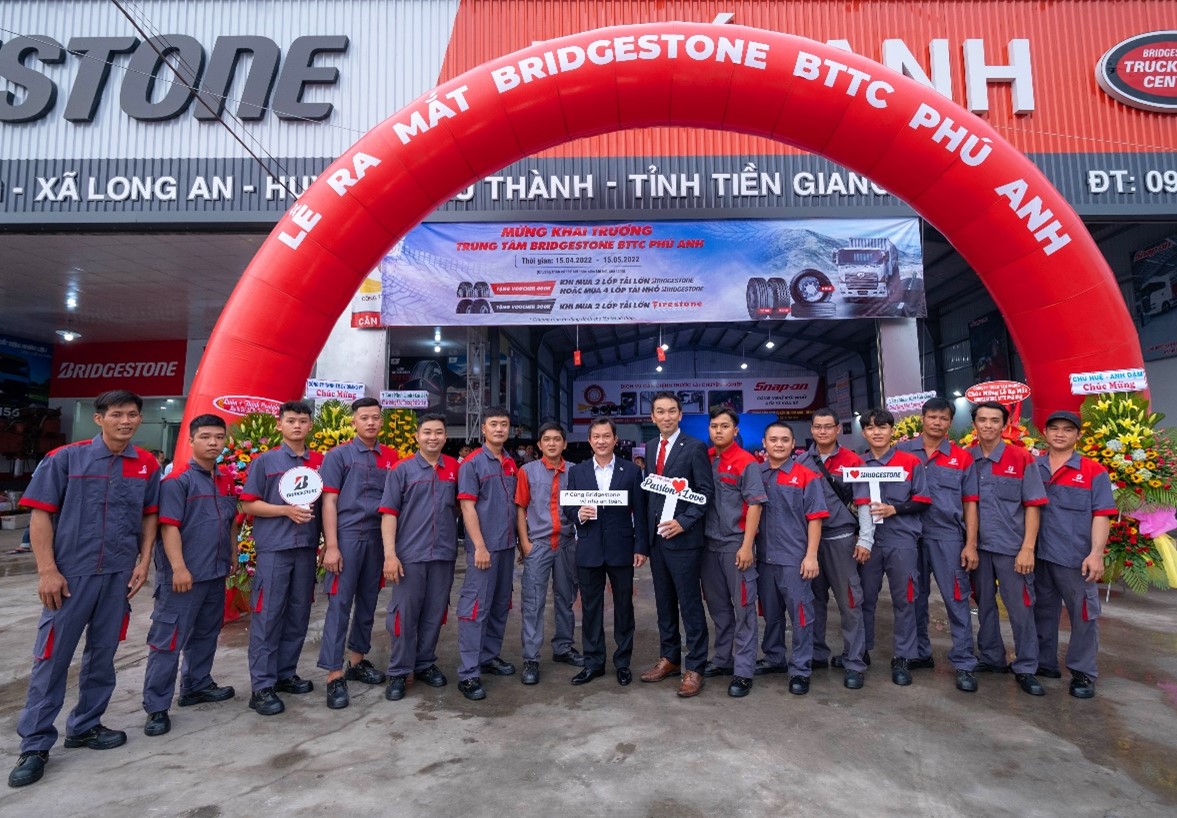 Mr. Sadaharu Kato, former General Director of Bridgestone Vietnam, and Mr. Tran Thanh Phong, Director of Phu Anh Company together with a group of technicians at the inauguration ceremony of BTTC Phu Anh
The meaningful progress of Bridgestone in the Mekong Delta
Putting the opening of BTTC Phu Anh in the recent rapid development situation of the highway system in the Mekong Delta, we see a meaningful move of Bridgestone Vietnam in the region.
According to the development plan for the Mekong Delta in the 2021 – 2030 period with a vision to 2050 that is approved by the Prime Minister in March 2022, 830 km of highway, 4.000 km of national roads, 4 airports, 13 seaports, 11 clusters of passenger ports and 13 clusters of inland waterway cargo ports will be newly built or upgraded. As a result, infrastructure connectivity promises to contribute to attracting investment, promoting sustainable development of the Mekong Delta, and making it become the new economic center in the South of Vietnam.
Defining the Southwest region as a key market in the future, Bridgestone Vietnam deployed the second BTTC in Tien Giang province, marking its first step to expand the business of high-quality products and tire services in this area.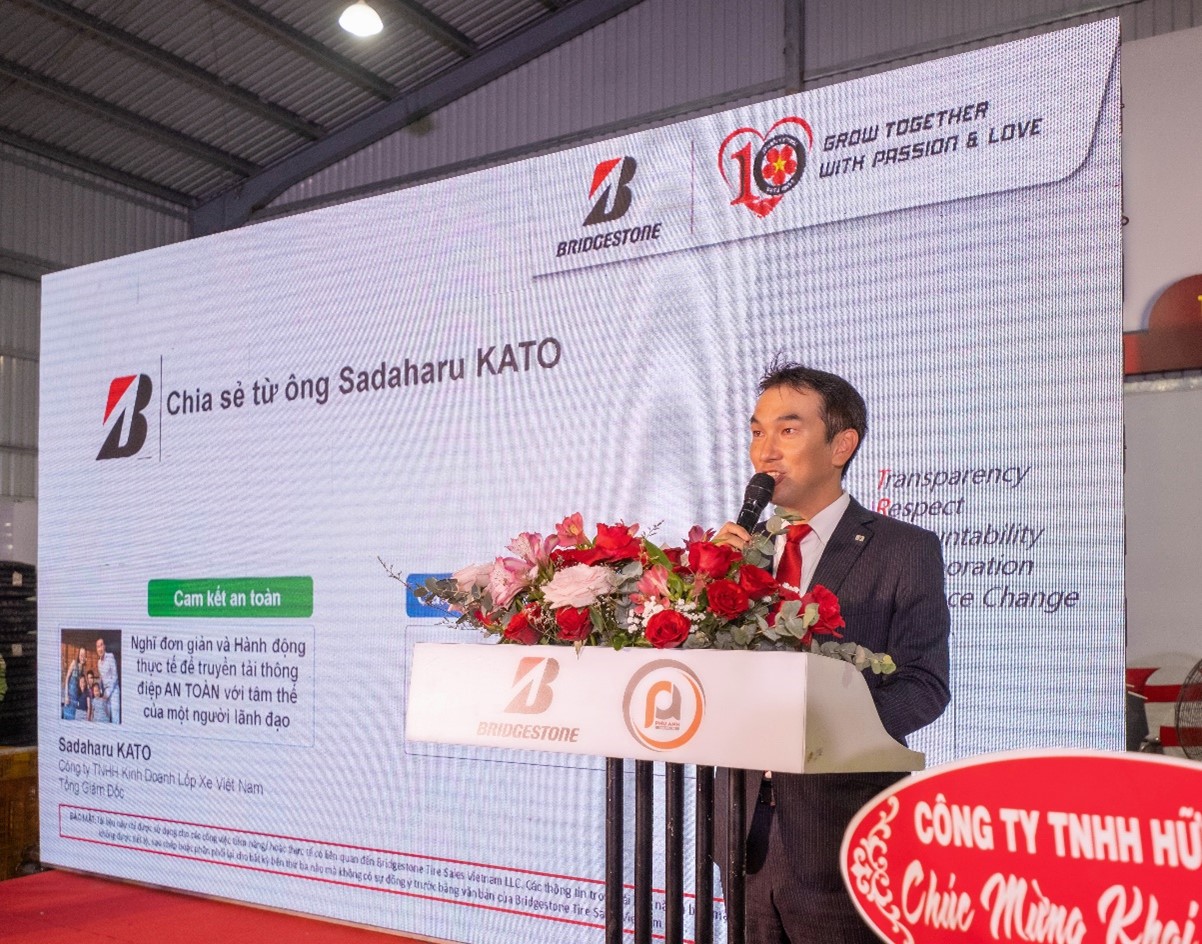 Mr. Sadaharu Kato, former General Director of Bridgestone Vietnam delivered a speech at the inauguration ceremony of BTTC Phu Anh
Elaborating on the decision of launching the second BTTC in the Mekong Delta in Vietnam 5 years after the first one, Mr. Sadaharu Kato, former General Director of Bridgestone Vietnam, said: "BTTC Phu Anh is a milestone in Bridgestone's journey in Vietnam. BTTC Phu Anh will follow Bridgestone's global standards, providing a range of services from tire services including pressure measurement, tire patching, and replacement, to more complex services such as dynamic balancing, steering wheel alignment, and quick truck maintenance and mobile vehicle repair, etc. The inauguration ceremony is our signification step towards the future vision that we are setting in the Western region."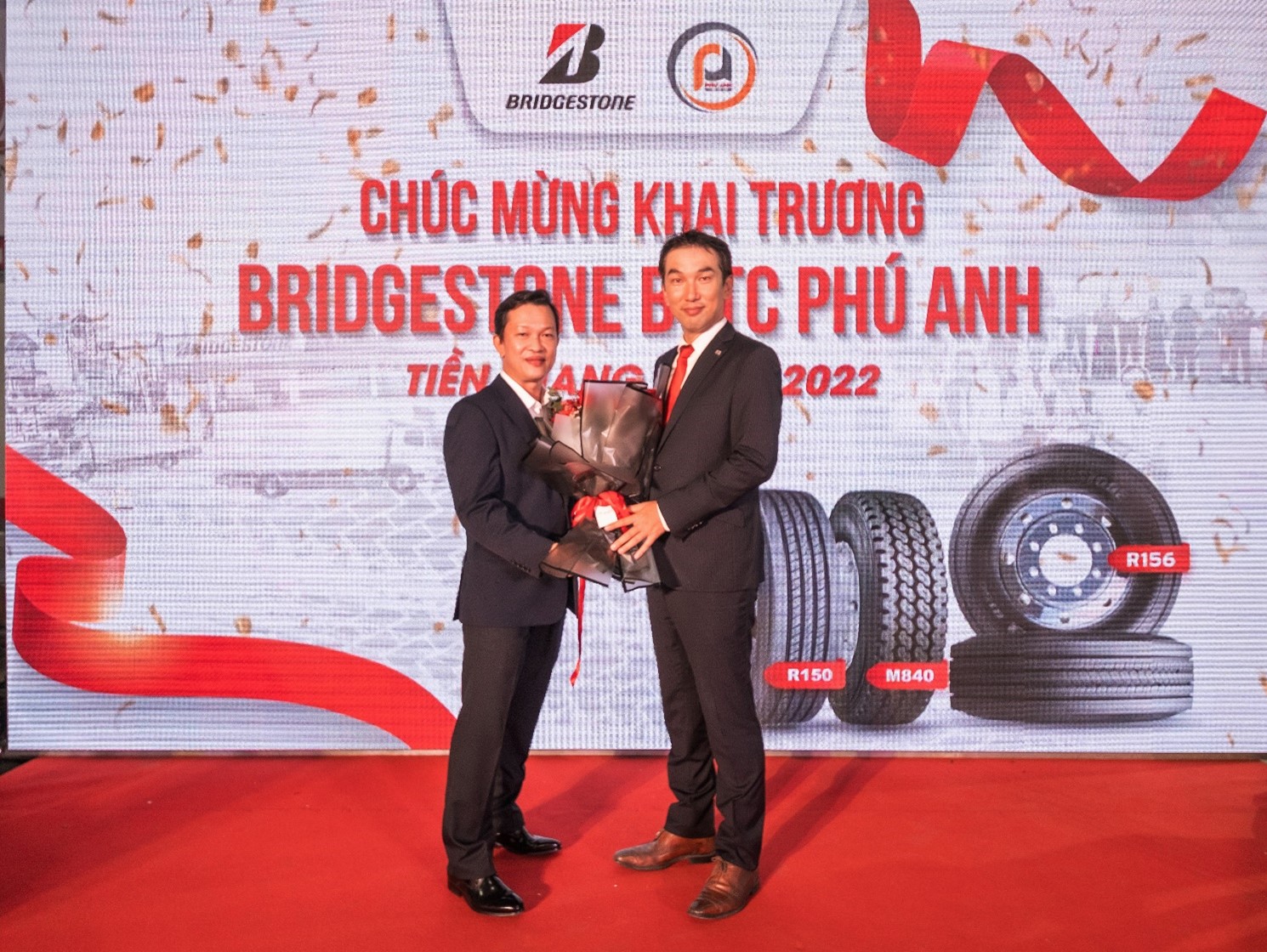 Mr. Sadaharu Kato gave flowers to Mr. Tran Thanh Phong to celebrate the opening ceremony of BTTC Phu Anh
Meanwhile, Mr. Tran Thanh Phong, Director of Phu Anh Company, expects that its cooperation with Bridgestone will continue to upgrade the standards of its products and services, therefore bringing a better experience to its customers. "Officially becoming the second BTTC in Vietnam is my pride and is critical to Phu Anh's development strategy. It marks the 12-year milestone of our sustainable cooperation with Bridgestone Vietnam, a major and reliable partner that shares the same long-term vision with us. With the strong support from Bridgestone, BTTC Phu Anh is committed to continuously striving to improve our customers' daily experience, starting from globally standardized tire products and services to subtle understanding and caring for the driver's actual needs during their demanding journeys," confirmed Mr. Tran Thanh Phong.
The quality stop for Mekong fleets
According to Mr. Thanh Phong, BTTC Phu Anh has a strategic location that is well-connected with the regional transport system. Being located right on 1A National Road and welcoming main traffic flows of the region from both directions: one heading to Ho Chi Minh City and one heading further down to the Southwestern provinces, BTTC Phu Anh with a new look is expected to be an undeniable stop for long-distance drivers.
With over 1.000m2 dimension, the second BTTC can serve dozens of trucks and passenger cars at the same time, delivering the ultimate experience for the drivers. For example, customers can choose a variety of tire products based on their needs at the showroom and salesroom, while feeling free to choose from basic services to advanced ones for tire/vehicle care and maintenance such as tire air pressure check, tire repair, patch and replace, wheel alignment, oil changes, battery replacement, etc. at the service zone.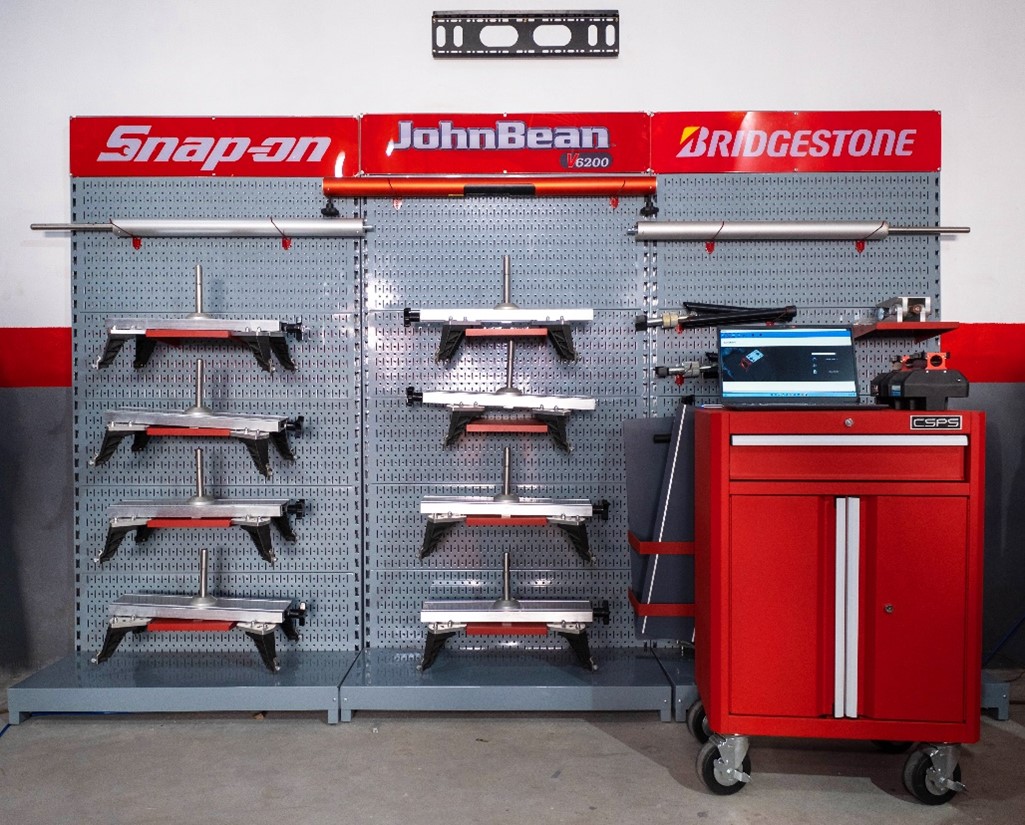 BTTC Phu Anh is equipped with modern steering wheel alignment facilities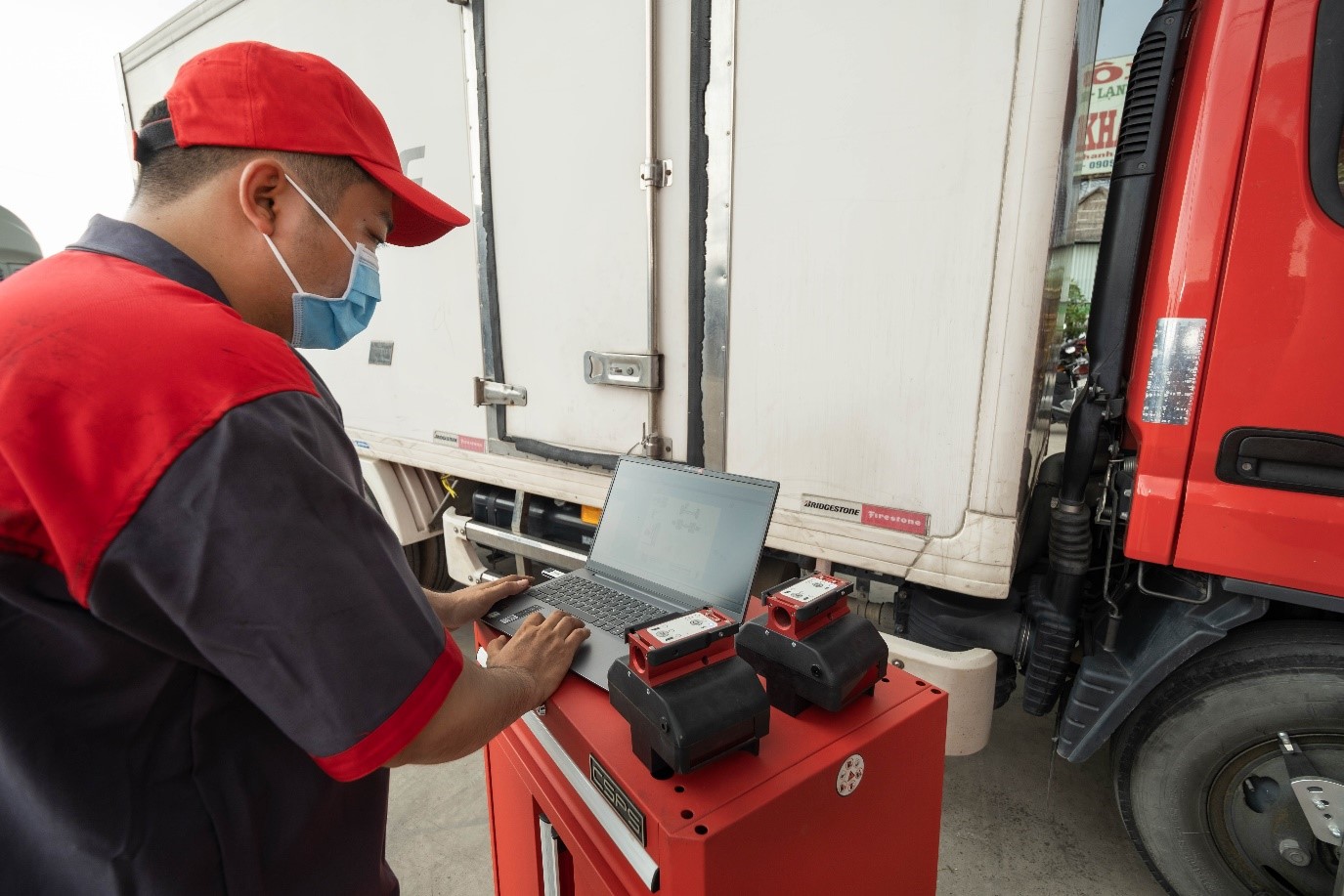 A technician at BTTC Phu Anh is performing a test of the steering wheel alignment service
In addition, BTTC Phu Anh also provides supplementary services such as a lounge with free drinking water, wet towels, a mobile kitchen, clean bathroom, all together to give drivers a safe and comfortable place for resting.
Not only standardizing all the facilities, but BTTC Phu Anh also employs a team of well-trained and professional technicians. In each area, BTTC Phu Anh's experienced technicians are willing to consult fleets and drivers on suitable tires, as well as offer the appropriate solutions in any situation to ensure the safest ride journey.
"We highly appreciate the impressive experience that BTTC Phu Anh has provided for the fleets for years. Most of us in the industry have been impressed with the superior quality of Bridgestone's tire products and we regularly choose Bridgestone tires for replacements. However, for BTTC Phu Anh, this is the first time that Mekong fleets have been able to fully experience all the most premium truck and tire service at just one stop," said Mr. Quoc Tuan from Quoc Tuan Phat Ltd. Co., a life-long customer at BTTC Phu Anh.
Mr. Thuong Huy, from Hong Huy Transport Company, another loyal customer of BTTC Phu Anh, said: "In my opinion, BTTC Phu Anh's products, services, and facilities are completely superior as compared with other tire centers not only in Tien Giang province but also in neighboring areas. It is certain that in the future Bridgestone's tire products and BTTC Phu Anh will be a reliable choice for our fleets."
About Bridgestone Tire Sales Vietnam LLC.
Bridgestone is a global leader in tires and rubber and is building on its expertise to provide solutions for safe and sustainable mobility.
In Vietnam, Bridgestone Tire Sales Vietnam LLC. (BSTVN) is a leading tire brand in Vietnam's automotive industry. Together with Bridgestone Tire Manufacturing Vietnam LLC., (BTMV), Bridgestone provides an extensive range of quality tires for passenger cars and commercial vehicles in Vietnam. With a rich history spanning over 90 years, Bridgestone Corporation is committed to being "Dan-Totsu" in all aspects of its business, and to working closely with its partners to deliver social value and customer value.
Staying committed to "Serving society with superior quality", Bridgestone offers a diverse product portfolio of premium tires and advanced solutions backed by innovative technologies, improving the way people around the world move, live, work and play.
####