Good news for drivers with promotion from Bridgestone. From today until September 30th, 2018, when purchasing 02 Bridgestone truck/bus tires - within a list of 10 promotion products to be applied at the Bridgestone truck bus dealers nationwide, customers will receive 01 500,000 VND fuel card . This card is valid throughout the Petrolimex system. For more information, please contact hotline 1900 54 54 68.

A full fuel tank for a persistent journey
As a trustworthy companion of drivers, Bridgestone often offers promotions that bring feasible benefits to customers. Specifically, from now until the end of September, Bridgestone brings the truck/bus drivers a promotion of buying 02 tires to get one 500,000 VND fuel card. Promotion applies for 10 Bridgestone tires as follows:

Large truck/bus tires (tube, set)
1000R20 – R156 – Thailand
1100R20 – M840 – Thailand
1100R20 – R150 – Thailand
1100R20 – R156 – Thailand
Large truck/bus tires (tubeless, piece)
11R225 – R150 – Thailand
12R225 – M840 – Thailand
12R225 – R158 – Thailand
225/90R175 – G610 – Japan
225/90R175 – R225 – Japan
245/70R195 – R156 – Thailand

Each Bridgestone truck/bus tire is designed and manufactured optimizing for different features to meet the wide variety of vehicle owners' demands and to ensure safety on all routes, for instance:
For truck tire products, Bridgestone has R150, R156 tires offer good guidance ability, which makes drivers operate easily and safely, suitable for longhaul journeys. The R150 pattern with 4-rib-groove design provides good water evacuation and safety operating for the steer position. The R156 pattern is optimized to preventstone retentionand reduce irregular wear, protecting the casings effectively. In addition, the M840 pattern is a special tire with good loading capacity, excellent cut chip resistance, suitable for many road and operation conditions.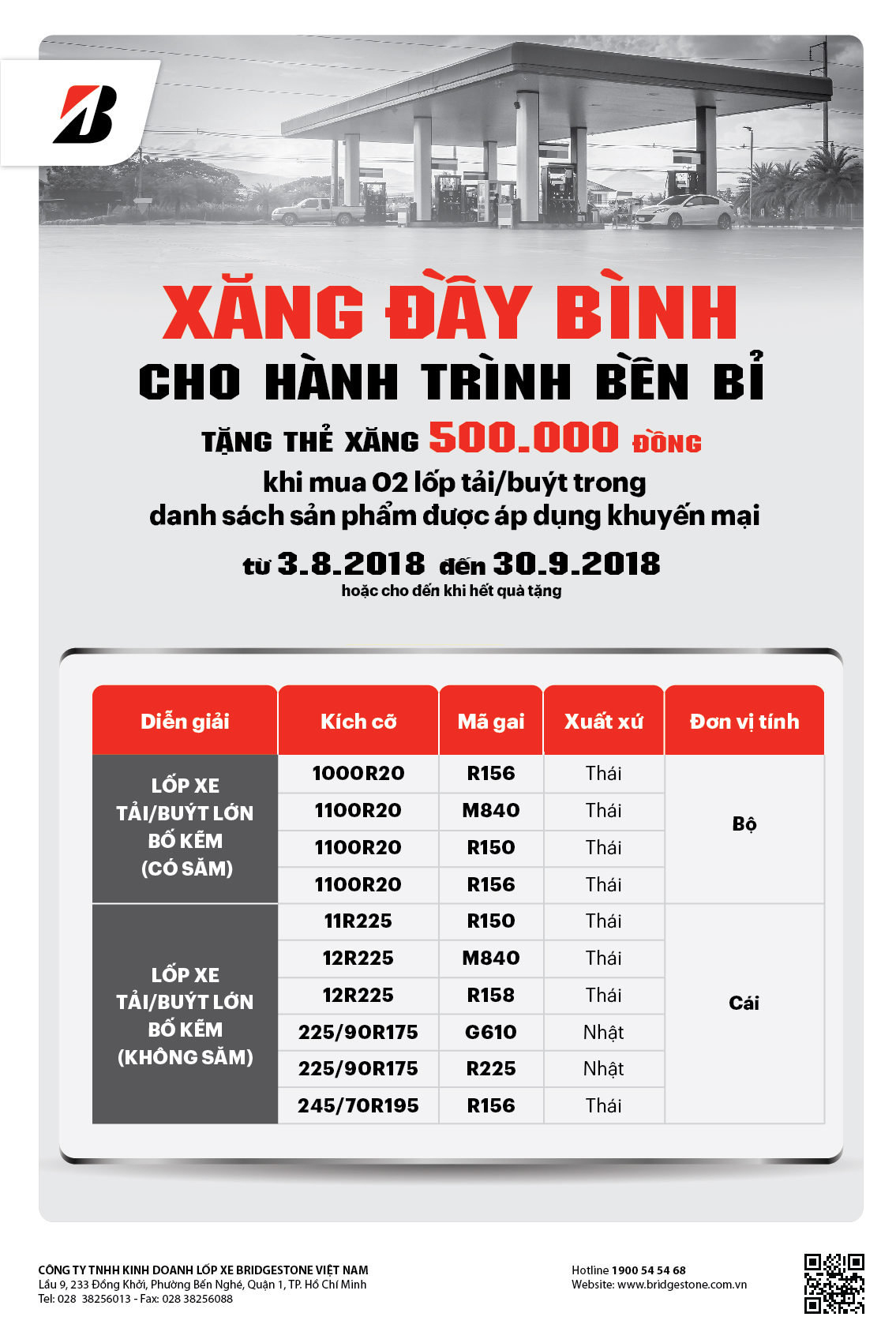 Details of products applied in the promotion
For bus tires product, the R158 patten is distinguished by its ability to reduce irregular wear, outstanding quiteness and high-level of comfort, suitable for large long-haul buses (45 seats or more). In addition, Bridgestone also has R225 or G610 pattern for smaller buses (for 29-34 seats), which are emphasized in softness and safety during usage.
A trusted companion on the road
s the world's largest tire brand, Bridgestone is well-known for its durability and safety which are trusted by the majority of Vietnamese drivers. Drivers, especially those who deal with long roads, are facing a lot of pressure everyday, it is challenging to be able to bring goods or passengers to their destinations safely and timely. Understanding this, Bridgestone offers durable tires with high quality to help drivers reduce the anxiety about the tires, they can confidently steer the steering, feel relaxed on whichever road they are driving. Bridgestone's aftersales also pays close attention to the drivers' wishes and aspirations with a variety of practical, thoughtful gifts. It can be said, Bridgestone is a trusted companion of Vietnamese drivers on every journey.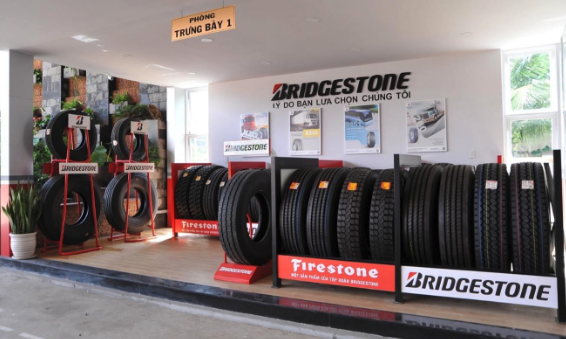 Each Bridgestone truck/bus tire is designed and manufactured optimizing for different features to meet the wide variety of vehicle owners' demands and to ensures safety on all routes
In Vietnam, Bridgestone is also known as the tire company which has the longest genuine warranty duration up to 7 years. This also shows confidence in the quality of the products as well as the partnership with customers of Bridgestone.
Not only that, Bridgestone also invests in professional truck / bus service centers (Fleetpoint, BTTC) across the country. Here, customers have their tires checked and maintained with modern machines and skilled mechanics, ensuring the safety of vehicles.

About Bridgestone Vietnam
Bridgestone Vietnam Ltd, Co. is a subsidiary of Bridgestone Corporation - the largest tire manufacturer in the world. Its products are sold in over 150 nations and territories around the world.