WITH BRIDGESTONE, YOU ARE IN SAFE HANDS!

Your safety is our top priority. Bridgestone is always guided by this basic rule, which is why we constantly evolve newer and safer products, one of which is Run-Flat Technology.
Malfunctioning tires are often the cause of accidents, and some 80% of tire incidents involve the gradual release of tire pressure, Run-Flat Technology answers this problem, by allowing you to still drive safely and maintain control of a vehicle even in the extreme case of zero pressure.
WHAT IS RFT?
RFT or Run-Flat Technology can still be used safely when there is no more air in them due to punctures or leaks. Bridgestone uses two different methods to achieve this: Self-Supporting Run-Flat Technology and Support Ring Run-Flat Technology.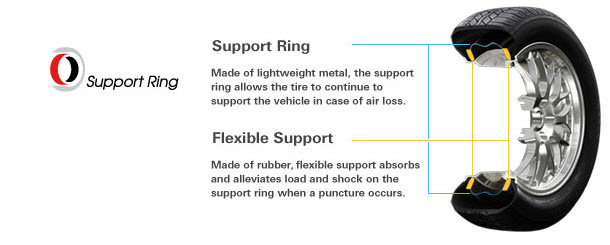 HOW DOES RFT WORK?
RFT is specially constructed so that even without air, it can still maintain its shape and also the strength to support the weight of the vehicle, therebefore continuing to work safely.

WHY THE NEED FOR RFT?
Sudden punctures can cause nasty accidents. RFT does not burst at high speed, so even if there is a puncture you can still control the car and drive it to a safe location.
You also do not have to face the tedious and sometimes dangerous task of changing tires, especially on highways, crowded or deserted roads.
RFT eliminates the need for spare tire, which not just free up more space in the vehicle but reduces it weights to promote greater fuel economy.
BRIDGESTONE MAKES RFT COOL.
Bridgestone has engineered another breakthrough in RFT with Cooling Fin technology. By using dusturbances in airflow caused by protrusions in the tire sidewalls, Bridgestone can now develop RFT for vehicles with high tire cross-sections such as Sports Utility Vehicles, minivans and large passenger cars.