Mr. Naoki Inutsuka has joined Bridgestone Vietnam since April 2022 as its new General Director. Prior to his position in Vietnam, Mr. Naoki Inutsuka has international experience in Japan, Middle East and African market
HO CHI MINH CITY, 16.06.2022 – Bridgestone Tire Sales Vietnam Limited Liability Company (Bridgestone Vietnam) has named Mr. Naoki Inutsuka as the new General Director since April 25th, 2022. Mr. Inutsuka will replace Mr. Sadaharu Kato, who concludes a three-year term in Vietnam.
Mr. Inutsuka vowed to contribute to the development of Bridgestone Vietnam by bringing high quality products and services for mobility ecosystem and social values for the country, striving for the commitment for "Extension: Committed to nonstop mobility and innovation that keeps people and the world moving ahead"[1] and "Empowerment: Committed to contributing to a society that ensures accessibility and dignity for all"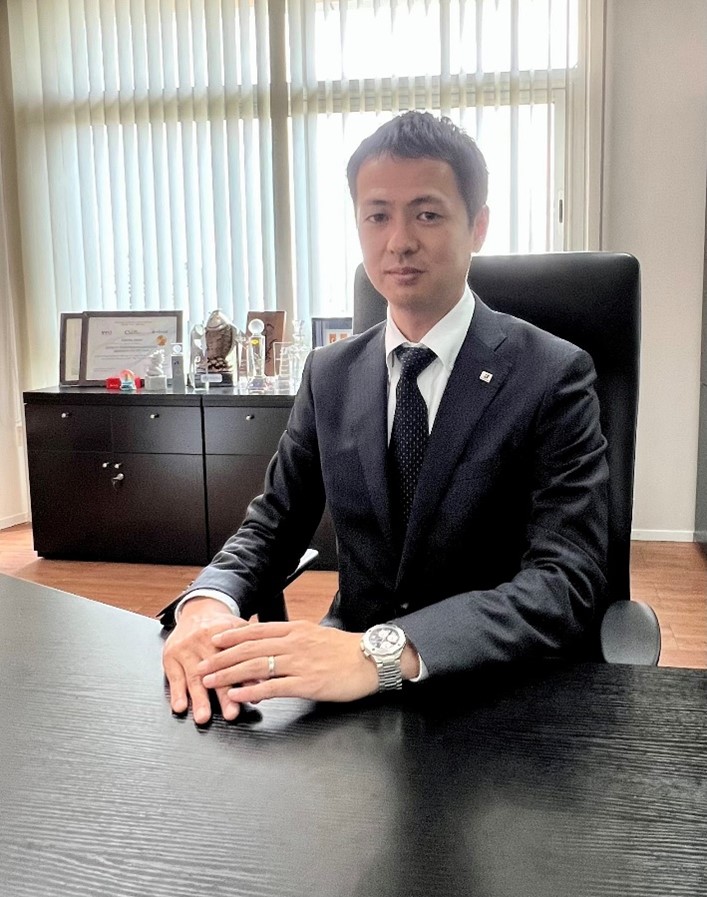 Mr. Inutsuka in his new office in Bridgestone Vietnam
Prior to being the new General Director of Bridgestone Vietnam, Mr. Inutsuka served in Global Business Administration in the Bridgestone headquarters in Japan. Since joining Bridgestone in 2002, he was engaged in international business assignments, including markets such as Middle East & Africa. His business planning expertise has contributed beneficially to both sales and manufacturing companies of Bridgestone Group.
Coming to Vietnam, Mr. Inutsuka is expected to continue the success of Bridgestone Vietnam as it continues to grow in the tire industry. He is enthusiastic to establish and form a strong foundation to make the success of Bridgestone Vietnam sustainable for the future.
Mr. Inutsuka shared: "Since arriving to Vietnam in the middle of April, I keep on being impressed by the great dynamism of Vietnam market. I am excited to be able to lead a passionate team and grow together in this prosperous market. In March 2022, Bridgestone Group announced the Bridgestone E8 Commitment, to gain the trust from future generations. I would like to contribute to sustainable development of Vietnam through the success in our business. The contribution is not only through providing high quality product to the end users but also providing services for mobility ecosystem together with partners while continuing to be responsible to the society."

About Bridgestone Tire Sales Vietnam LLC.
Bridgestone is a global leader in tires and rubber and is building on its expertise to provide solutions for safe and sustainable mobility.
In Vietnam, Bridgestone Tire Sales Vietnam LLC. (BSTVN) is a leading tire brand in Vietnam's automotive industry. Together with Bridgestone Tire Manufacturing Vietnam LLC., (BTMV), Bridgestone provides an extensive range of quality tires for passenger cars and commercial vehicles in Vietnam. With a rich history spanning over 90 years, Bridgestone Corporation is committed to being "Dan-Totsu" in all aspects of its business, and to working closely with its partners to deliver social value and customer value.
Staying committed to "Serving society with superior quality", Bridgestone offers a diverse product portfolio of premium tires and advanced solutions backed by innovative technologies, improving the way people around the world move, live, work and play.
####
[1] The Bridgestone Group newly established its corporate commitment, the "Bridgestone E8 Commitment" to realize its vision: "Toward 2050, Bridgestone continues to provide social value and customer value as a sustainable solutions company." This commitment will serve as the Group's axis to drive management while earning the trust of future generations. The "Bridgestone E8 Commitment" consists of 8 Bridgestone-like values starting with the letter "E" (Energy, Ecology, Efficiency, Extension, Economy, Emotion, Ease, and Empowerment) that the Group will commit to creating through Bridgestone-like "purpose" and "process", together with employees, society, its partners and customers to realize a sustainable society.
https://www.bridgestone.com.vn/en/about/news/bridgestone-announces-bridgestone-e8-commitment-toward-2030