In December, Bridgestone Vietnam opened Premium B-Select AutoCare24 in Can Tho. This is the fifth Premium B-Select of Bridgestone in Vietnam and the first one in the Mekong Delta.
Can Tho (December 30, 2022) – On 22 December, Bridgestone Vietnam inaugurated Premium B-Select AutoCare24 in B3-B4, Nong Tho San Residential Area, Phu Thu Ward, Cai Rang District, Can Tho City.
The fifth Premium B-Select in Vietnam is part of the Bridgestone E8 commitment value of "Extension: Committed to non-stop mobility and innovation that keeps people and the world moving ahead." With the fifth Premium B-Select, Bridgestone is committed to continuing to raise the standard of tire and car care in Vietnam in general and the Mekong Delta in particular.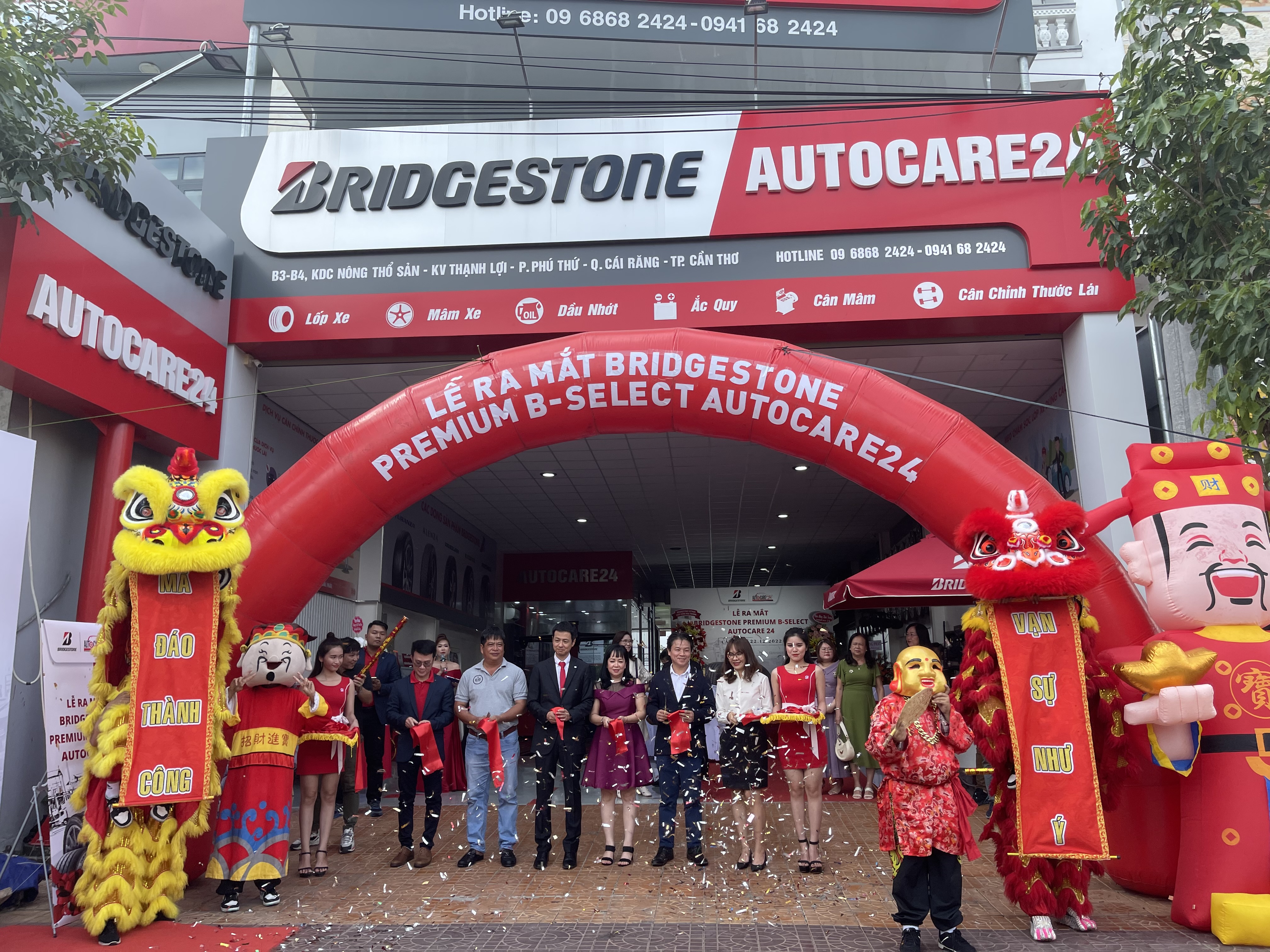 The opening ceremony of Premium B-Select AutoCare24 in Can Tho
AutoCare24 has been a long-term partner of Bridgestone since 2013 when B-Select was first introduced in Vietnam, with the aim to bring superior quality to customers using tire and car care services provided by Bridgestone. AutoCare24 joined hands with Bridgestone Vietnam to open the first B-Select in the Mekong Delta in May 2013, also the third one in Vietnam. Since then, the B-Select AutoCare24 has won trust of many customers in Can Tho.
Since then, AutoCare24 has been one of the leading partners of Bridgestone in Vietnam. In the past 9 years since 2014, AutoCare24 has been in the Top 15 Dealers of Bridgestone in Vietnam.
This year, to further improve services, AutoCare24 is upgraded to Premium B-Select with a larger space and offers a more diversity of tire and car care services for customers. The Premium B-Select is located in a convenient location near My Thuan – Can Tho Expressway – one of the key projects connecting HCMC and Can Tho scheduled to complete in early 2023.
Premium B-Select AutoCare24 is upgraded to give superior experiences of car care to customers
The model Premium B-Select is the way Bridgestone Vietnam brings high-quality tire and car care services to customers. Compared to B-Select and B-Shop, Premium B-Select features a spacious, well-equipped space making customers feel more comfortable. The model offers totally new tire and car care services following the three aspects of standards, which are superior customer experience, modern equipment, and professional service.
The opening ceremony of Premium B-Select AutoCare24 shows Bridgestone Vietnam's focus on the potential in the Mekong Delta region. Mr. Naoki Inutsuka, General Director of Bridgestone Vietnam, says: "Next year marks the 10 years of the journey that AutoCare24 has been with Bridgestone, started as the 1st B-Select in Can Tho. Ever since, AutoCare24 has always being our top dealers in Vietnam. AutoCare24 is leading Mekong market with the passion to serve best for the customers, improving services by upgrading machines, equipment and training for the staff. Together with AutoCare24, we would like to contribute to the society through supporting extension of mobility life."
In the coming time, Bridgestone will open more B-Select and Premium B-Select to expand the distribution channels and continue upgrading customers' experiences nationwide.
About Bridgestone Corporation
Bridgestone is a global leader in tires and rubber building on its expertise to provide solutions for safe and sustainable mobility. Headquartered in Tokyo – Japan, the company employs approximately 130,000 people globally and conducts business in more than 150 countries and territories worldwide. Bridgestone offers a diverse product portfolio of premium tires and advanced solutions backed by innovative technologies, improving the way people around the world move, live, work and play.
About Bridgestone Tire Sales Vietnam LLC.
In Vietnam, Bridgestone Tire Sales Vietnam LLC. (BSTVN) is a leading tire brand in Vietnam's automotive industry. Together with Bridgestone Tire Manufacturing Vietnam LLC., (BTMV), Bridgestone provides an extensive range of quality tires for passenger cars and commercial vehicles in Vietnam. Staying committed to the global mission of "Serving society with superior quality" for more than 90 years, Bridgestone Vietnam work closely with its partners to deliver social values and customer values.
####
The Bridgestone Group newly established its corporate commitment, the "Bridgestone E8 Commitment" to realize its vision: "Toward 2050, Bridgestone continues to provide social value and customer value as a sustainable solutions company." This commitment will serve as the Group's axis to drive management while earning the trust of future generations. The "Bridgestone E8 Commitment" consists of 8 Bridgestone-like values starting with the letter "E" (Energy, Ecology, Efficiency, Extension, Economy, Emotion, Ease, and Empowerment) that the Group will commit to creating through Bridgestone-like "purpose" and "process", together with employees, society, its partners and customers to realize a sustainable society.
https://www.bridgestone.com.vn/en/about/news/bridgestone-announces-bridgestone-e8-commitment-toward-2030