Bridgestone Vietnam is honoured to be Top 10 Sustainable Development Enterprises in 2022 in Vietnam. This is the achievement of Bridgestone Vietnam in the process of persistent efforts to contribute to society along with sustainable development in the long term
Ho Chi Minh City (DECEMBER 29, 2022) — With a sustainable development strategy and persistent efforts to contribute to society, Bridgestone Vietnam is honoured to receive the Top 10 Sustainable Development Enterprises 2022 award in Vietnam in the field of Trade – Services. The event marked the 6th time Bridgestone Vietnam was in the top 100 sustainable enterprises.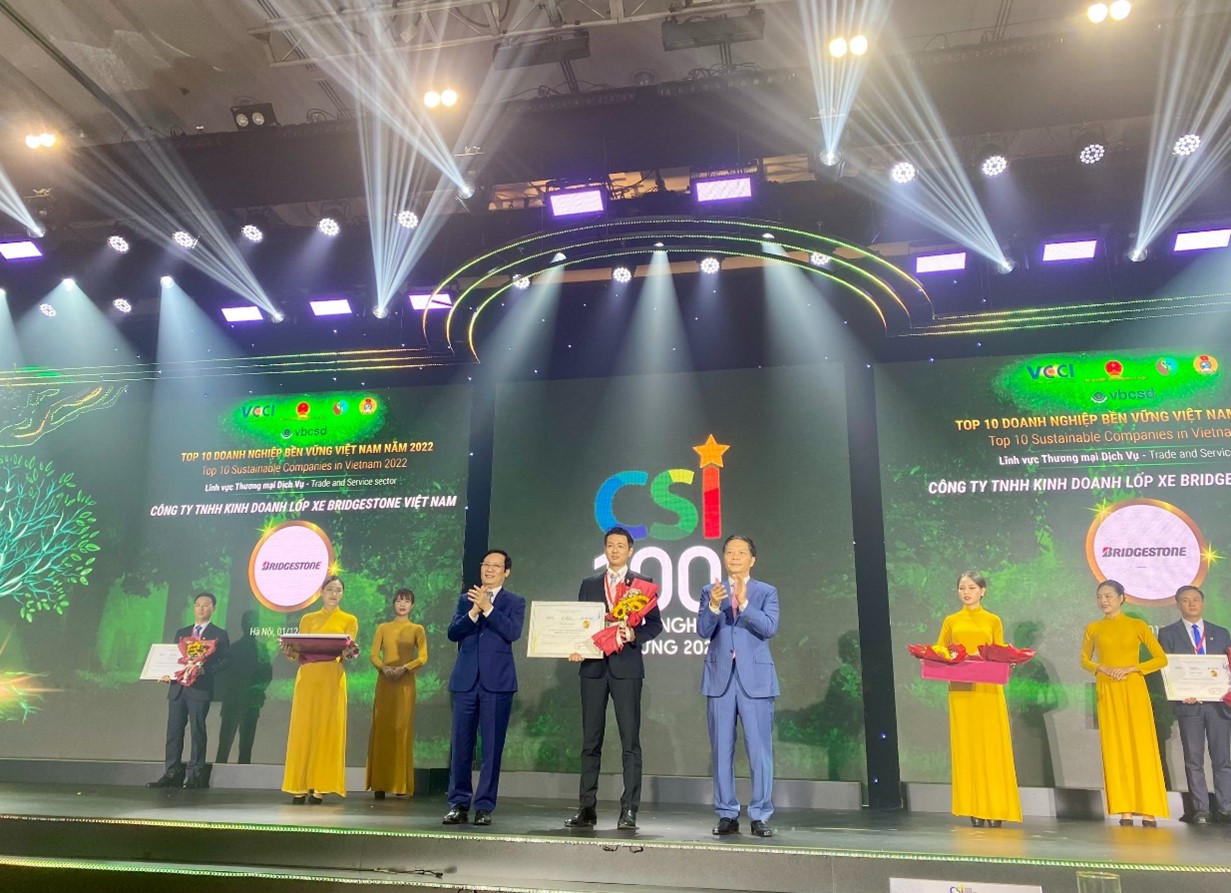 Mr. Naoki Inutsuka, General Director of Bridgestone Vietnam, received the Top 10 Sustainable Enterprises Award in 2022
The Award Ceremony of the Vietnam Sustainable Enterprises Evaluation and Ranking Program is a prestigious annual event to honour the Top 100 enterprises over the country. In 2022, the award categories were also expanded to promote businesses with good achievements in promoting the circular economy model, responding to climate change; businesses with excellent records of women's empowerment and gender equality in the workplace, and businesses that respect human and children's rights.
2022 marks an important step forward in Bridgestone's development phase as the Group announced the launch of the "Bridgestone E8 Commitment" in March. This is one of the Group's corporate commitments towards 2030. "Bridgestone E8 Commitment" includes 8 typical values of Bridgestone, starting with the 8 letters "E", which are Energy, Ecology, Efficiency, Extension, Economy, Emotion, Ease, and Empowerment. These are 8 values that Bridgestone Group is committed to joining hands with employees, society, partners and customers to support the realization of a sustainable society.
Mr. Naoki Inutsuka, the General Director of Bridgestone Tire Sales Vietnam LLC, shared: "It is a great honour to receive this dignified award. Through the process of application, we could have reconfirmed our activity to be a sustainable solution company, which is in Bridgestone Group's vision for year 2050. We would like to continue our effort to respond to the requirement for sustainable development, along with Bridgestone E8 Commitment."
Bridgestone standing side by side with Vietnamese
Towards the goal of business development along with improving the quality of life of Vietnamese people, in recent years, Bridgestone has brought many meaningful community activities and programs, focusing on educating and connecting knowledge for Vietnamese children.
Specifically, this year, Ong Lao Bridge in Tien Giang province and Lang Len Village Bridge in Thanh Hoa under the project "Bridge to Knowledge" of Bridgestone Vietnam were inaugurated and put into use to help remote localities replace the deteriorated bridge and bring a safe and joyful way to school for children.
Started in 2019, the project "Bridge to Knowledge" has been implemented in many provinces in Vietnam, including Dien Bien, Son La, Daklak, Dong Thap, An Giang, Can Tho, Tien Giang, Thanh Hoa. The project aims to realize the value of "Empowerment: Committed to contributing to a society that ensures accessibility and dignity for all" – one of the commitments announced in the "Bridgestone E8 Commitment".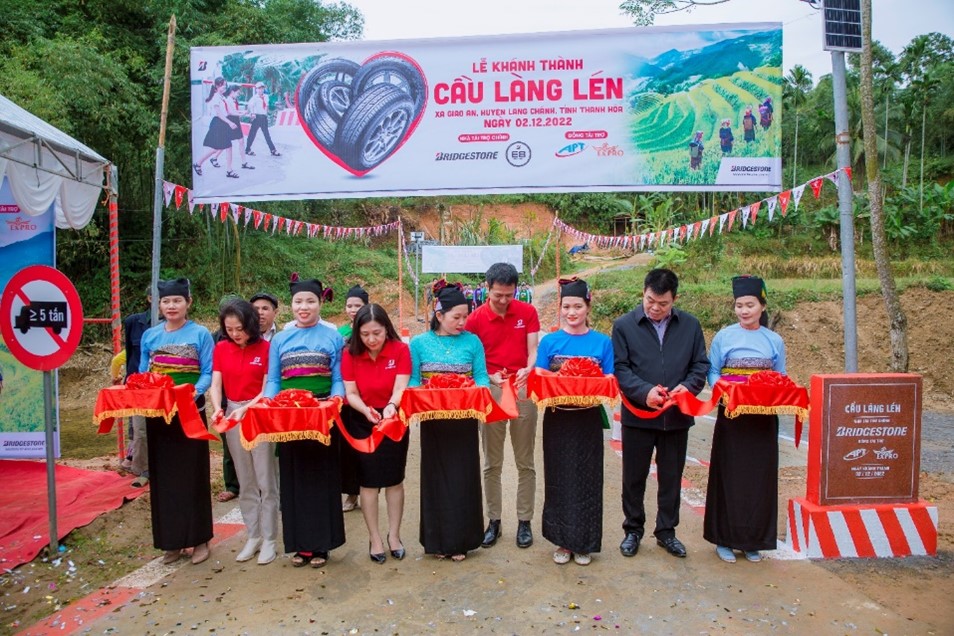 Representatives of Bridgestone Vietnam, partners and local authorities cut the ribbon to inaugurate The Sneak Village Bridge in Thanh Hoa
Also, with the desire to help children in remote areas access knowledge more easily, Bridgestone Vietnam accompanies INSEE Vietnam in the project of Honey Library for children in mountainous areas. The library was started construction in September 2022 at Phuoc Tan A Primary School, Ma Ty village, Bac Ai district, Ninh Thuan province. When the project is completed, the children will have a sustainable space to gain knowledge as well as participate in useful extracurricular activities.
Safety is also a part of the sustainable solutions that Bridgestone offers, in order to deliver excellent quality. Bridgestone has regularly organized tire care and maintenance courses and training programs for distributors. Through partners, Bridgestone wants to bring safe journeys to customers, while at the same time, actively raise awareness of traffic safety in society with community programs.
About Bridgestone Corporation
Bridgestone is a global leader in tires and rubber building on its expertise to provide solutions for safe and sustainable mobility. Headquartered in Tokyo – Japan, the company employs approximately 130,000 people globally and conducts business in more than 150 countries and territories worldwide. Bridgestone offers a diverse product portfolio of premium tires and advanced solutions backed by innovative technologies, improving the way people around the world move, live, work and play.
About Bridgestone Tire Sales Vietnam LLC.
In Vietnam, Bridgestone Tire Sales Vietnam LLC. (BSTVN) is a leading tire brand in Vietnam's automotive industry. Together with Bridgestone Tire Manufacturing Vietnam LLC., (BTMV), Bridgestone provides an extensive range of quality tires for passenger cars and commercial vehicles in Vietnam. Staying committed to the global mission of "Serving society with superior quality" for more than 90 years, Bridgestone Vietnam work closely with its partners to deliver social values and customer values.
###
The Bridgestone Group newly established its corporate commitment, the "Bridgestone E8 Commitment" to realize its vision: "Toward 2050, Bridgestone continues to provide social value and customer value as a sustainable solutions company." This commitment will serve as the Group's axis to drive management while earning the trust of future generations. The "Bridgestone E8 Commitment" consists of 8 Bridgestone-like values starting with the letter "E" (Energy, Ecology, Efficiency, Extension, Economy, Emotion, Ease, and Empowerment) that the Group will commit to creating through Bridgestone-like "purpose" and "process", together with employees, society, its partners and customers to realize a sustainable society.