Ong Lao Bridge, Tan Hoa Thanh Commune, Tan Phuoc District, Tien Giang Province has just been inaugurated by Bridgestone Vietnam to the joy of thousands of students and local people. This is to replace the old bridge that has been degraded for a long time. This is the 7th bridge implemented in the journey of Bridgestone's project "Bridge to Knowledge" in Vietnam.
TIEN GIANG (08 August 2022) — Bridgestone Tire Sales Vietnam LLC (Bridgestone Vietnam) inaugurated the new Ong Lao Bridge, Tan Hoa Thanh Commune, Tan Phuoc District, Tien Giang Province on August 5, realizing its commitment of "Empowerment: Committed to contributing to a society in which access and dignity are guaranteed to everyone", one of the values announced in "Bridgestone E8 Commitment" this March 2022[1].
Ong Lao Bridge is the 7th bridge in Bridgestone Vietnam's project "Bridge to Knowledge" starting in 2019. The project is implemented with the desire to bring a safe and joyful way to school for disadvantaged children, and equal access to knowledge for all future generations. The journey of the knowledge bridge has come to Dien Bien, Son La, and Dak-Lak, to Dong Thap, An Giang, and Can Tho.
This August, the journey arrived Tien Giang. On August 5, thousands of students and local people in Tan Hoa Thanh Commune, Tan Phuoc District, Tien Giang province gladly welcomed a "new friend" – the Ong Lao bridge - in the joyful atmosphere of the inauguration ceremony.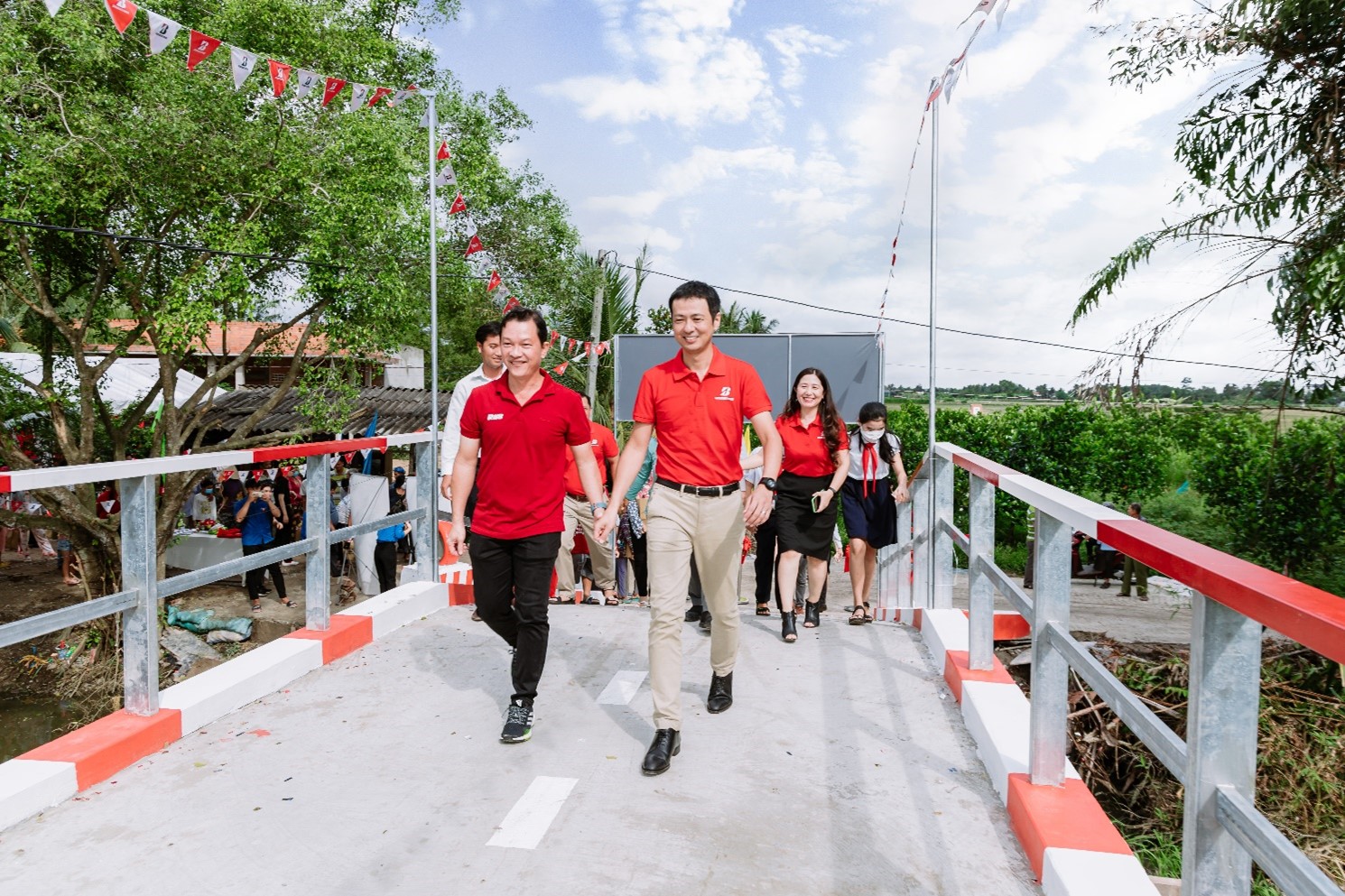 Mr Naoki Inutsuka, General Director of Bridgestone Vietnam (man on the left hand side), attended the bridge crossing ceremony with co-sponsors and the locals
The old makeshift bridge was built temporarily from limited funds by the contributions of the local people more than 10 years ago. Until now, the bridge is degraded and badly damaged, many places on the bridge surface are fixed temporarily. The beams and piers were already partially damaged, reducing the load of the bridge and making it unsafe for local people who need to use it to transport goods and agricultural products. Crossing the old unstable bridge means facing the lurking dangers of accidents. The old bridge also had no railing, with a narrow and tall design leading to restricted sight for passengers. Such bad features caused many accidents for the locals while using the bridge.
Despite that, crossing the old bridge has been a part of the daily commute of 245 households of about 1,350 people in Tan Hoa Thanh commune, including 120 students who use the bridge as a way to go to school.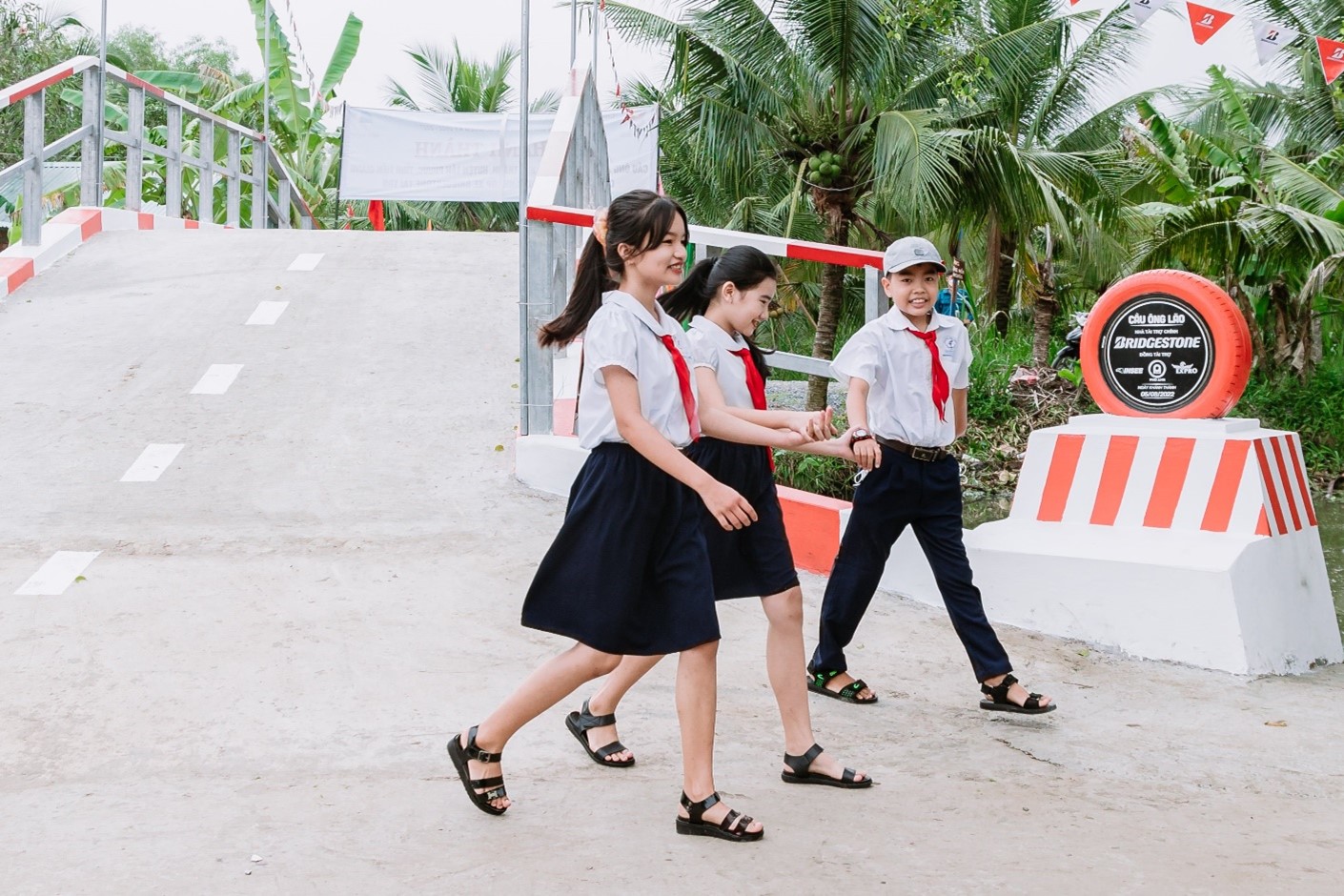 The new Ong Lao bridge continued to bring a safe and joyful way to school for children in disadvantaged areas
Cao Vo Hoang Dung, an 11th grader at Nguyen Van Tiep High School recalled: "Every day, I go to school 2 times by bicycle, so I have to go back and forth across the bridge 4 times a day. The old Ong Lao bridge has deteriorated since I was in elementary school. Every time I crossed the old bridge, I would have to get off by bicycle and walk because the old bridge was so high and narrow. The bridge surface is also so shredded and slippery, that it is difficult to move, especially when it rains. I've myself witnessed a few other small students falling while walking across this bridge." Dung also shared: "My father is a pineapple trader, so he has to carry pineapples across the bridge every day. Such an old bridge also makes his transportation difficult and dangerous."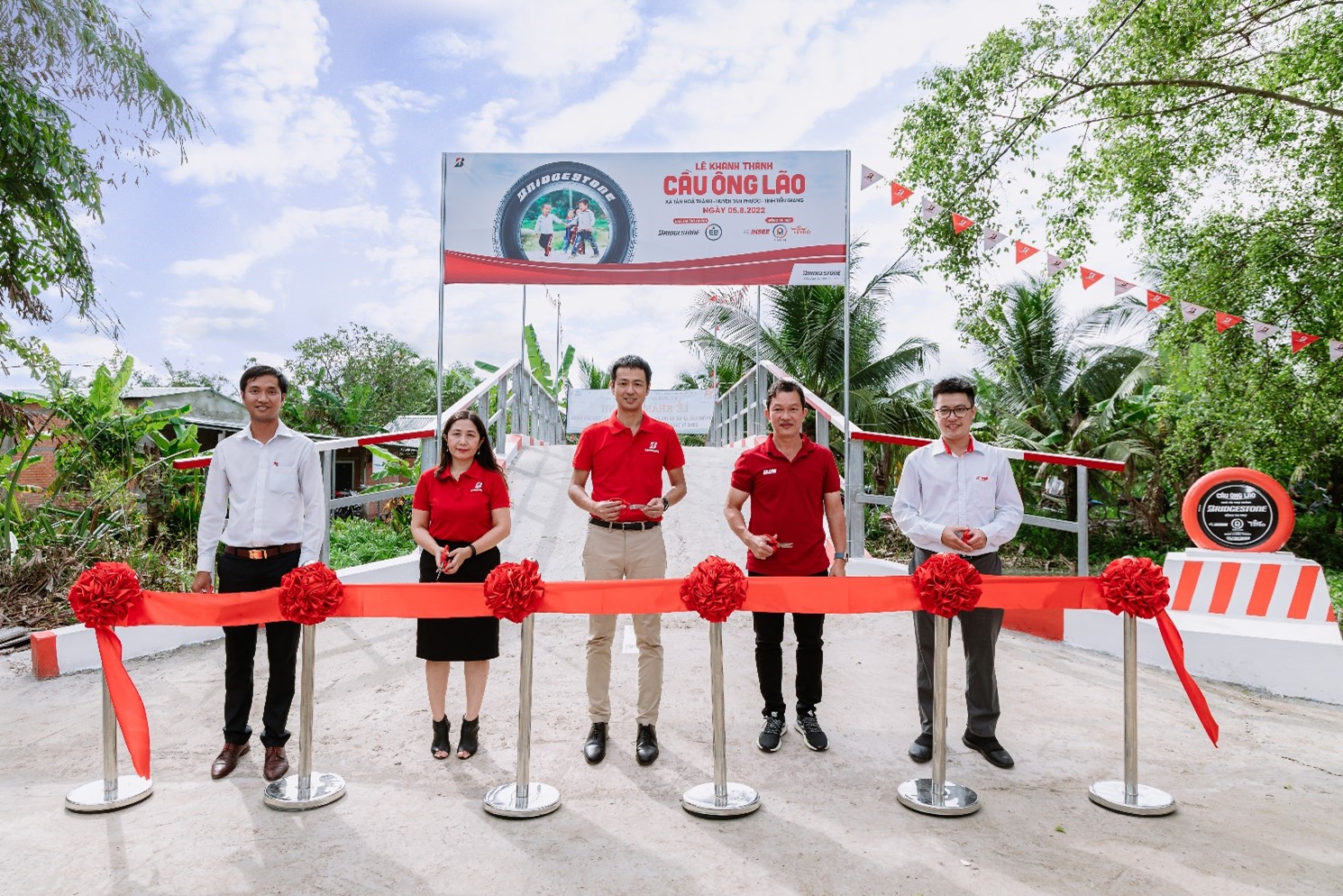 Representative of Bridgestone Vietnam, local government and co-sponsors of Ong Lao Bridge prepares for the ribbon cutting
A solid new bridge that keeps them from the lurking accident risks in their everyday life will be a meaningful gift for all citizens in Tan Hoa Thanh. That is also the motivation for Bridgestone Vietnam to bring the bridge-building initiative to Tan Hoa Thanh.
Ong Lao Bridge was built and put into operation on August 5, with a length of 27 meters, a width of 3 meters, and a load of 2 tons, solving the concerns of 245 households with about 1,350 people in the area of Tan Hoa Thanh commune. In particular, the new and solid bridge will continue the safe journey to school for more than 120 students, giving them more motivation to strive for a brighter future.
Sharing the same joy with the local people on the inauguration day, Mr. Huynh Ba Nhat - Vice Chairman of Tan Hoa Thanh Commune People's Committee shared: "Ong Lao bridge was inaugurated, making a great contribution to the local economic development. The transportation of goods and agricultural products of people is now easier. Large trucks can go to the place to buy agricultural products for people. Previously they had to take a longer route due to limitted access to the narrow bridge. The new bridge then indirectly helps to increase the selling prices for local people for their agricultural products, and therefore increase income for local people. The daily travel of people in the area is also more convenient, especially the students who use the bridge to go to school every day."
Spreading good values through practical actions is the way for Bridgestone Vietnam to create sympathy and trust in society and partners. Cau Ong Lao does not only have the cooperation from the local government but also BTTC Phu Anh – Premium Truck/Bus Tire Service Center in Chau Thanh District, Tien Giang Province, and Insee Cement Company.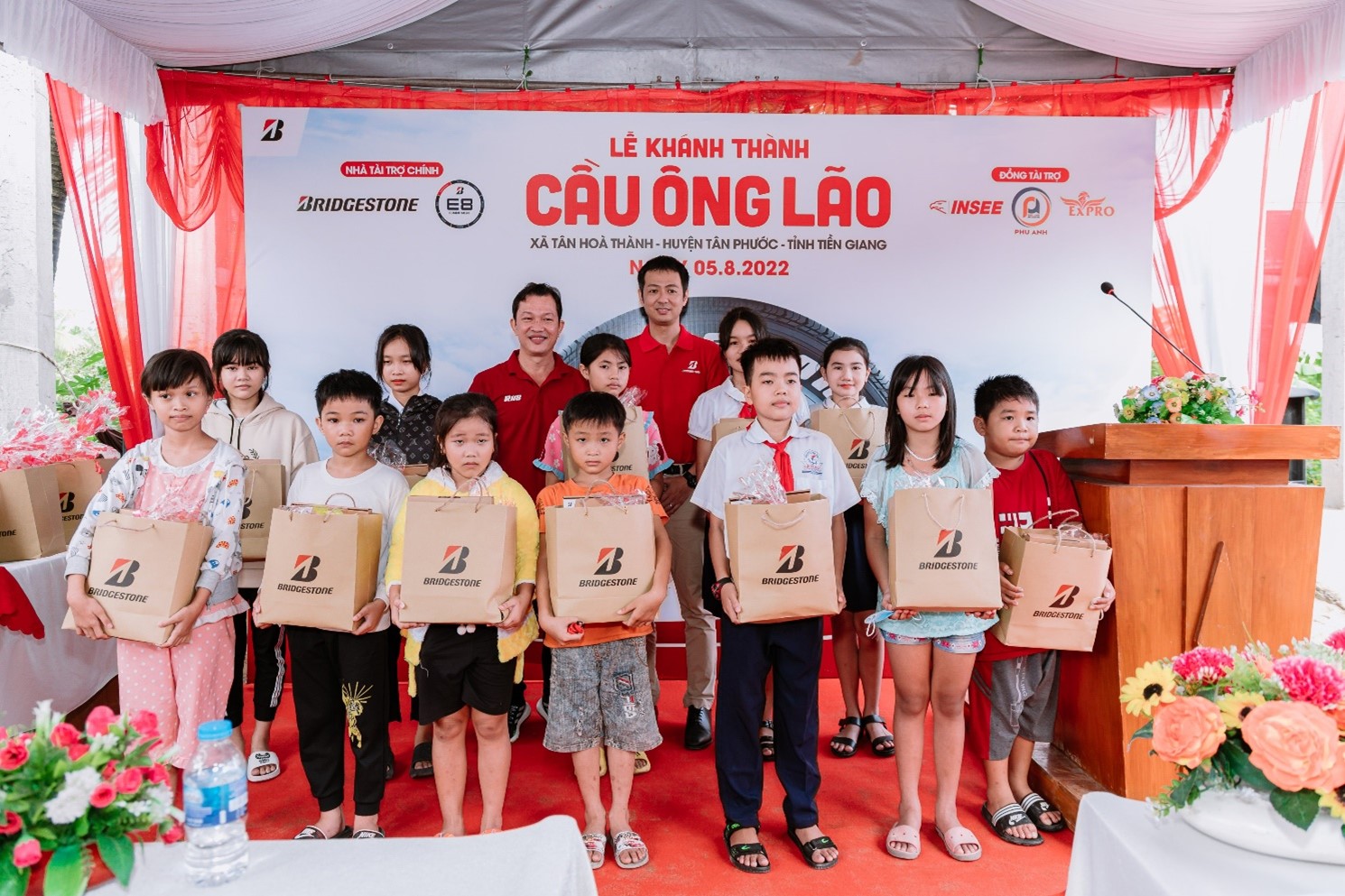 Bridgestone and the co-sponsors also prepared charity gifts for local disvantaged children
Mr. Naoki Inutsuka, the General Director of Bridgestone Vietnam, shared, "Sustainable growth of the society is now recognized as the most important foundation of all the business. Bridgestone Vietnam always acts to gain the trust of future generations in line with our global Bridgestone E8 Commitment. We bring ease of life through our practical activities, empower the vulnerable groups in society, and would like to grow together with Vietnam with passion and love."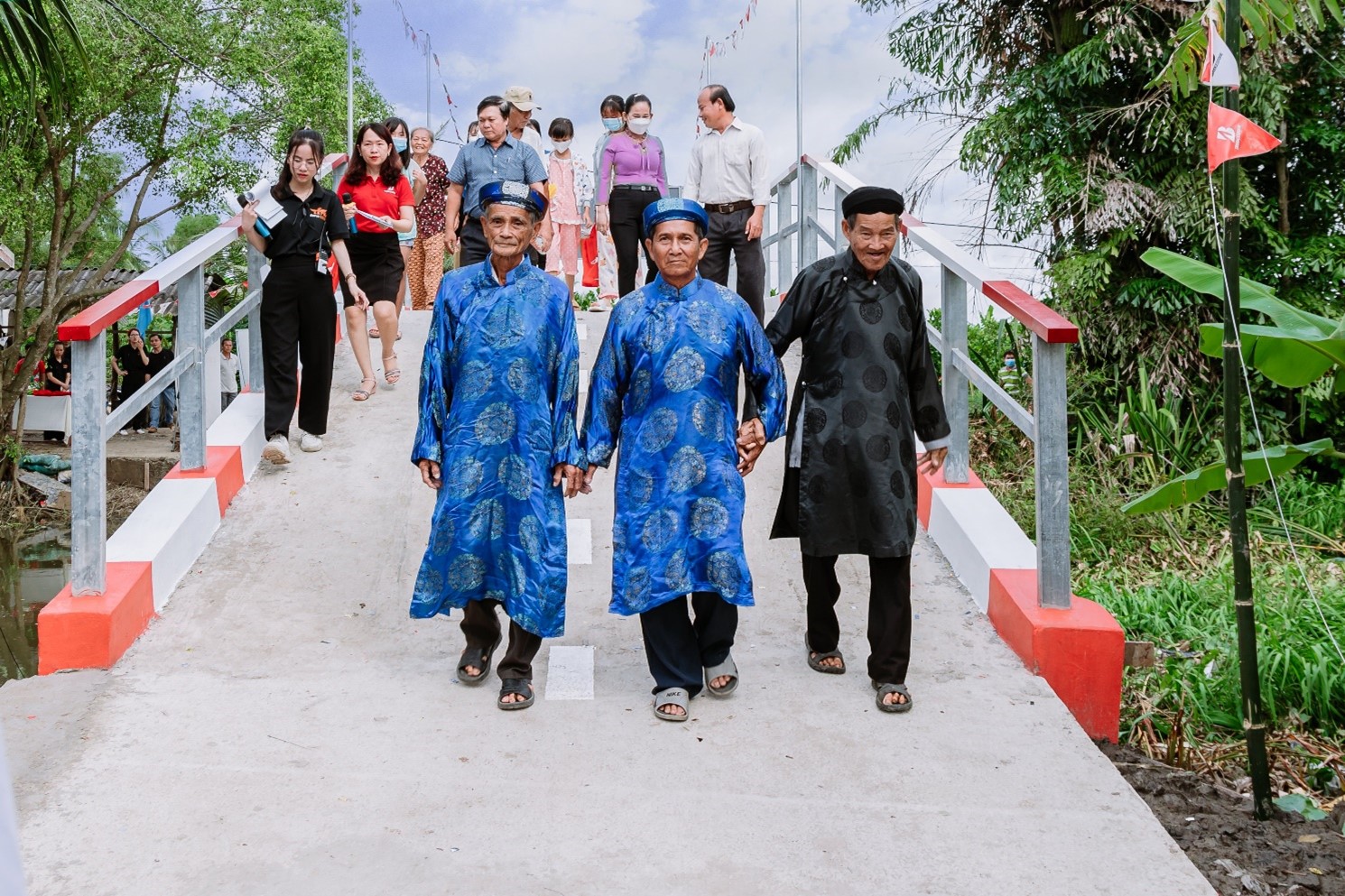 Many locals attended the ceremony to welcome the new friend in the area
With the construction of the Ong Lao bridge, Bridgestone Vietnam brought about a new journey with the now solid bridge for Tan Hoa Thanh commune, and together with that the hope and belief for the people and students to move towards a better future.
For further information, please contact:
Ms. Dang Thanh Hang – Brand Communication Leader
Email: hang.dang@bridgestone.com
Tel: +84 901 880 813
About Bridgestone Corporation
Bridgestone is a global leader in tires and rubber building on its expertise to provide solutions for safe and sustainable mobility. Headquartered in Tokyo, the company employs approximately 130,000 people globally and conducts business in more than 150 countries and territories worldwide. Bridgestone offers a diverse product portfolio of premium tires and advanced solutions backed by innovative technologies, improving the way people around the world move, live, work and play.
About Bridgestone Tire Sales Vietnam LLC.
In Vietnam, Bridgestone Tire Sales Vietnam LLC. (BSTVN) is a leading tire brand in Vietnam's automotive industry. Together with Bridgestone Tire Manufacturing Vietnam LLC., (BTMV), Bridgestone provides an extensive range of quality tires for passenger cars and commercial vehicles in Vietnam. Staying committed to the global mission of "Serving society with superior quality" for more than 90 years, Bridgestone Vietnam work closely with its partners to deliver social values and customer values.
####
[1] The Bridgestone Group newly established its corporate commitment, the "Bridgestone E8 Commitment" to realize its vision: "Toward 2050, Bridgestone continues to provide social value and customer value as a sustainable solutions company." This commitment will serve as the Group's axis to drive management while earning the trust of future generations. The "Bridgestone E8 Commitment" consists of 8 Bridgestone-like values starting with the letter "E" (Energy, Ecology, Efficiency, Extension, Economy, Emotion, Ease, and Empowerment) that the Group will commit to creating through Bridgestone-like "purpose" and "process", together with employees, society, its partners and customers to realize a sustainable society.
https://www.bridgestone.com.vn/en/about/news/bridgestone-announces-bridgestone-e8-commitment-toward-2030